Surdyk's offers Order Fulfillment via Curbside Pickup, Delivery, or Shipping
Local Minneapolis/ St. Paul Delivery
All orders have the option for Curbside Pickup!
Need it right away? Pickup is the best option and is free of any additional fees. Orders of all sizes can be placed for curbside pickup, no minimum purchase. Once you place your order, watch your inbox for an email notifying you that your order is ready.
Local Delivery or Shipping is available for orders of $100 or more.
We ask for 24 hours notice and will confirm a three hour time window to schedule. We can not drop deliveries on a doorstep, someone must be available to receive alcoholic beverages. We are happy to do a contactless delivery to keep interaction to a minimum.
Because of Prohibition-era laws, we are unable to ship to most locations outside of Minnesota.
We ship WINE ONLY. We are able to ship to these states: AK, CA, DC, FL, & within MN

Use the "Estimate Delivery" function at the top of the screen to see if we can ship what's in your cart -and/or- where we are allowed to send it.
If you need immediate assistance, or prefer the old-fashioned way (talking to a person), please give us a call at 612-379-3232 and follow the prompts to the Order Department. We're happy to help over the phone.
---
CURBSIDE PICKUP
Need something same day? Order online for same day pickup.
Curbside Pickup is available Monday-Saturday from 9am-9pm and Sunday from 11am-6pm when ordering in advance.
Place your order online, we'll have it ready for you within 1-4 hours. If you're not in a hurry, help our staff out and order in advance. (There is a different option to select for Future Pickup, we love those.) Once you place your order, watch your inbox for an email notifying you that your order is ready.
Step One:
Step Two:
When you've received an email that your order is ready for pickup, pull your car up to our parcel pickup lane to the left of the front door (right under the digital square sign)
Please have your ID!
If you're walking or on a bike, no problem!
Step Three:
Stay in your vehicle and we will load up your car!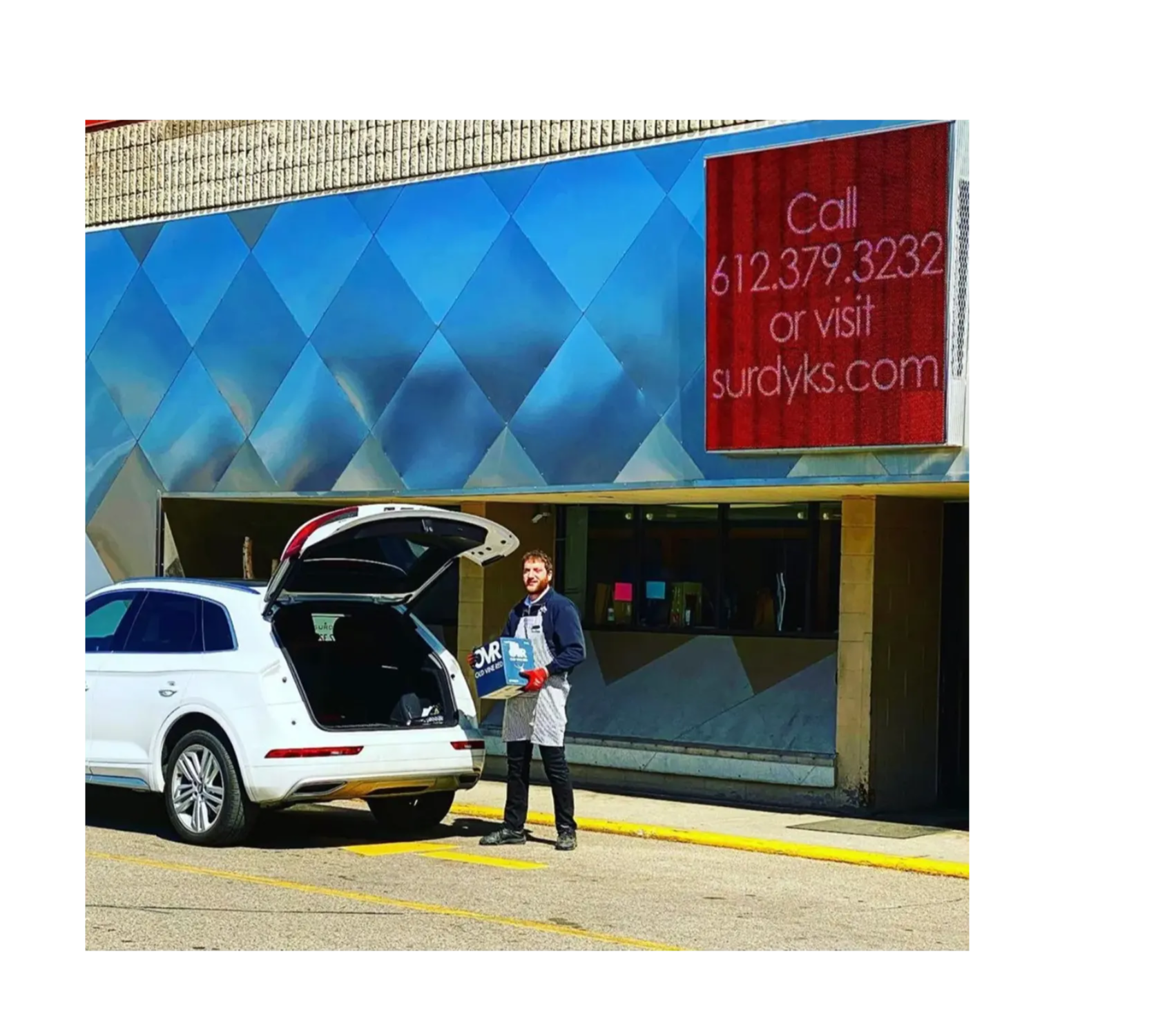 ---
LOCAL DELIVERY
LOCAL DELIVERIES ARE AVAILABLE FOR A $20 FEE. // Local Deliveries = 0-15 miles from our store.
There must be someone 21+ available to accept and sign for the delivery. We can't leave alcohol on a doorstep for liability reasons. We will accommodate a "no-contact" delivery policy, but please be available to receive the delivery from a reasonable distance.
Deliveries returned to the store are subject to additional return fees and/ or delivery charges.
When you place your order, please indicate your preferred delivery date. After we've received the delivery order, the Order Dept will be in contact to schedule the date and time with you. Our order department is staffed the same hours that the store is open.
DRIZLY
Delivers in about 1 hour, price varies depending on location. Order minimum applies.
AMAZON
Convenient 2-hour delivery windows, with same-day options available.
MINIBAR DELIVERY
Price varies depending on location. Order minimum applies.
More information regarding order minimums and delivery fees can be found on their websites.
---
UPS SHIPPING
A few things to know in advance:
NUMBER 1: Many items are restricted from UPS Shipping.
This includes spirits, beer, and bottles of a "not-typical" shape or size. These items are indicated by No Ship We make very few exceptions on this rule.
NUMBER 2: Because of Prohibition-era laws, we are unable to ship to most states.
We are only able to ship wine to these states: AK, CA, DC, FL, & MN

All states have different policies, with particular regard to retailer-to-consumer shipping.
The website knows the rules, but if it doesn't enforce them properly, Surdyk's reserves the right to cancel orders that may have been allowed to be placed in error. Check the "Estimate Delivery" function at the top of the screen for pricing or to see if we can ship to you to avoid disappointment at checkout.
• All orders outside of the local delivery range will have UPS Shipping options & fees. Please allow 3-5 days for processing.
We can not ship wine to PO Boxes, those orders will be cancelled.
Please abide by the laws for having alcohol delivered to your state.
We typically ship Monday-Thursday, and ship based on UPS ground transit times. We prefer shipments to be in transit throughout the business week. Therefore, if you are in Washington DC or California, and order on a Wednesday, we may not ship your package until the following Monday to protect the integrity of the items being shipped.
The title to the wine you order passes to you as soon as it leaves our doors; it is up to you to know the relevant laws in your state. As mentioned, we are unable to ship to most states.
• We will hold orders when the weather is below freezing at the time of shipping
Due to extreme cold temperatures in the state of Minnesota, orders placed December through February will experience delays. (And if we aren't kidding ourselves, November through April can experience below freezing weather, and July and August are often far too hot.) If your order is time sensitive, please e-mail us at weborders@surdyks.com to discuss shipping options.
• Fees / Signature Required
Your UPS fee is based on the weight of the boxes being shipped, plus add an additional fee for "Adult Signature Required."
You must be 21 or older to sign for delivery which will be verified at the time of the delivery. NO boxes can be left without a signature, no exceptions.
If you order from Surdyk's you are representing to us that you are at least 21 years of age and that the person to whom it is being shipped is also at least 21 years old.
REFUNDS, RETURNS, CANCELLATIONS
Surdyk's stands behind all items we sell. We are happy to offer refunds or returns if you are not satisfied with your products, with your original receipt. We will offer a 100% refund with proof of purchase. Refunds can be expected up to 5 business days after processing.

If you have unused product that you would like to return, it must be in resale condition. If you order online and need to cancel, please contact us at weborders@surdyks.com or call us as soon as possible at 612-379-3232.

Inventory listed online has the same items as the brick and mortar store, but the online inventory is not an exhaustive list of all items available. Due in part to the large amount of items available in-store and online, inventory discrepancies will occur. If a discrepancy occurs with inventory directly involved with your order, and we will not be able to fulfill all or part of your order, we will contact you by email and/or phone as soon as possible.
Surdyk's reserves the right to refuse orders.
If you place an order via our website, you are agreeing to our Terms of Use and Surdyk's Privacy Policy.