Staff Selections • Noelle Starr
holiday selections • winter 2020
PORTLANDIA PINOT NOIR 2018
Willamette Valley, Oregon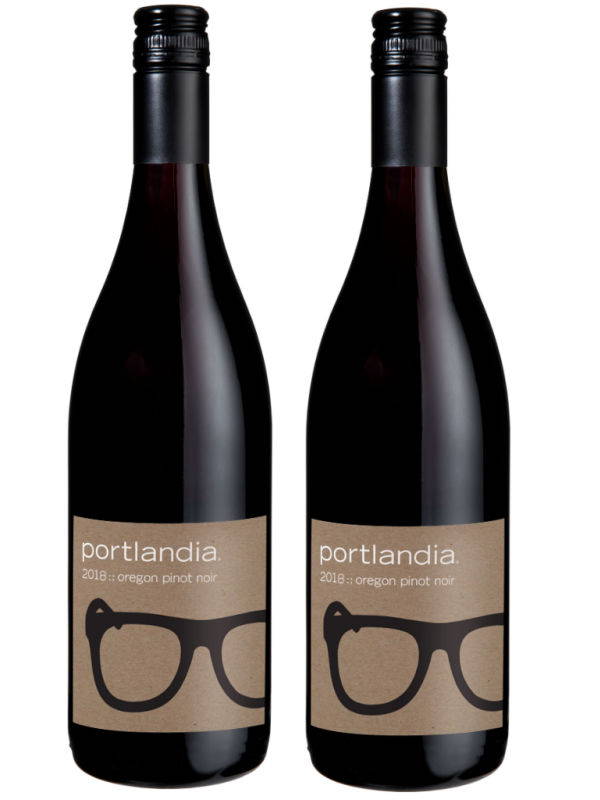 Even with this year's holidays looking different than before, I imagine your table will still include all of the favorite foods of the season. Pinot Noir from Oregon is one of those magical wines that has the ability to pair with seasonal ingredients (sage, mushrooms, root vegetables, salmon, turkey,
beef, even ham) and elevate the entire experience.
Willamette Valley is home to some of the best and most expensive Pinots. It is also home to the vineyards where Portlandia's Pinot Noir comes from. Surdyk's staff first tasted the Portlandia wines a few years ago and fell in
love with the entire portfolio. The wines offer value rarely found from such a prestigious address. We also are quite fond of owner, winemaker, and all-around excellent guy, Damian Davis!
All Portlandia wines are delicious (Pinot Gris, dry Rose, and a single vineyard "Momtazi" Pinot Noir), but this 2018 Pinot Noir, sourced from
5 vineyards in the cooler part of Willamette, shows a style that many $25 and under Oregon Pinots can't come close to touching. Loads of baked cherry, orange zest, and spice box notes come through energetically on the palate. The wine has a medium weight that showcases the full expression of fresh fruit without interfering. This will evolve in your glass, starting off bright and high-toned before moving to spicy and warming as the time passes.
Wine Enthusiast agrees, recently naming it to their "Top Ten Oregon Pinot Noirs in 2020 for Value" list. (Read about that here!) I hope you enjoy it and the holidays in good health!
---
FELINO CABERNET SAUVIGNON 2018
I have tasted my way through a sea of Cabernet, and often I am
underwhelmed by the wine and frustrated by the price I paid. I discovered Felino Cabernet when I accidently grabbed a bottle instead of their Malbec (Andy Hall's staff pick a year ago) as they have almost identical labels. What luck! It has now become a regular wine at my home and one I love to introduce to others. As we all know, a great bottle of wine doesn't just happen. Vineyard location, climate, and ultimately the skill of the winemaker will determine the final outcome.
Felino's Cabernet comes from fruit grown in Valle de Uco and Luján de Cuyo, both famous for high altitude vineyard sites in Mendoza. The harvest took 3½ weeks in order to patiently walk the vines and hand harvest only the properly ripened fruit. 2018 climactic conditions were nearly perfect for growing Cabernet grapes, with expected temperatures and rainfall. All of these factors mean nothing if the person making the wine lacks talent. Felino, part of the Vina Cabos family of wines, was founded by Napa Valley legend Paul Hobbs. His love for Argentina began in 1988, with his inaugural vintage under the Vina Cabos label arriving back in 1999. Over the past 22 years, his wines have garnered fans, both in the industry and with home enthusiasts. I consider myself a member of both! Stock up on this – well-made Cabernet at this price is not always easy to find.
---