Staff Selections • Noelle Starr

I have long been a fan of Steele wines and its founder/winemaker Jed Steele. For 50 years now, he has earned a reputation for crafting outstanding small-lot, vineyard-designated wines, and this 2018 Steele Pinot Noir is no exception. Although the front label doesn't boast, these grapes come solely from Sangiacomo Vineyards in Carneros, the coolest part of Sonoma County, and have since its first bottling in 1991. It fills a need in our domestic red aisle: exceptionally made, fairly priced, varietally correct Pinot Noir. A beauty in the glass, the nose shows baked cherry, spiced rhubarb, and a hint of savory sundried tomato. The taste delivers ripe black cherry, bright pops of raspberry, along with creamy vanilla notes (from the 12 months it spent in oak). I have tasted several vintages of this lovely wine over the years and have never been disappointed. Now, at 75, Jed is ready to retire. Steele wines will continue on under new ownership, which makes the 2018 Pinot Noir one of the last few vintages made by Jed
Steele himself. I, myself, will be buying a case.
---
EL MAESTRO SIERRA 15-YEAR OLOROSO SHERRY
Spanish sherry has a confusing, even intimidating reputation that keeps many wine lovers from experiencing one of the most delicious food partners around. For those of you who aren't familiar, here's a (very) brief rundown: Sherry is a fortified wine from Spain. It can be dry or sweet. Three varietals are allowed in production: Palomino for dry wines, Pedro Ximenez and Moscatel for sweet. El Maestro Sierra Oloroso is dry; the term Oloroso indicates the wine was intentionally exposed to oxygen as it matured for 15 years in a solera system (a complex, multi-vintage barrel program). That oxygen exposure is what creates the classic "sherry" flavor
profile that elevates many recipes, from soups to sauces, and poultry and beef. The lovely amber color is the first indication that you are in for something special. The nose shows nuttiness, earthiness, and a false hint of sweetness which never comes through on the palate. Instead, the savory side of fig, dried orange, baking chocolate, and roasted nuts linger through its complex finish. The fact that it lacks all of the usual fruit notes
found in "traditional" wine is something I crave when I want something a bit different. When chilled and served alongside aged cheeses, olives, meats, and nuts, it's a truly magical (and easy!) combination.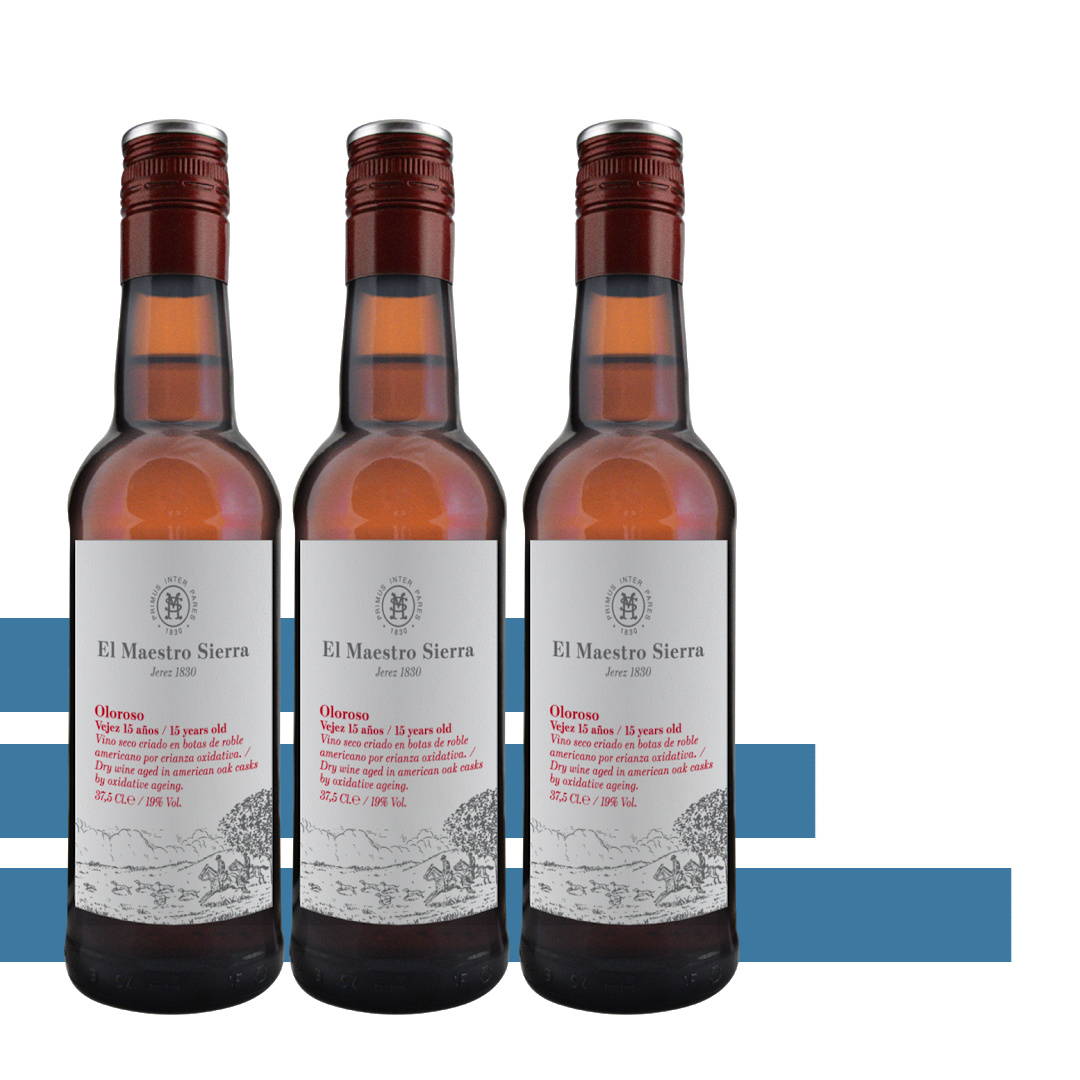 ---