Beer | Dabbler in a Box Season 7
---
thank you for supporting the craft beer community.

Make sure to get the most out of your purchase by watching the
DABBLER IN A BOX Video Series.
Subscribe to the Beer Dabbler You Tube channel and never miss a video!

---
---
AVAILABLE NOW
Contactless curbside pickup is available.
There are no refunds on unclaimed boxes.
Local Delivery or UPS Shipping available with orders of $100 or more.
Delivery fees will apply. More info on Pickup & Delivery options HERE.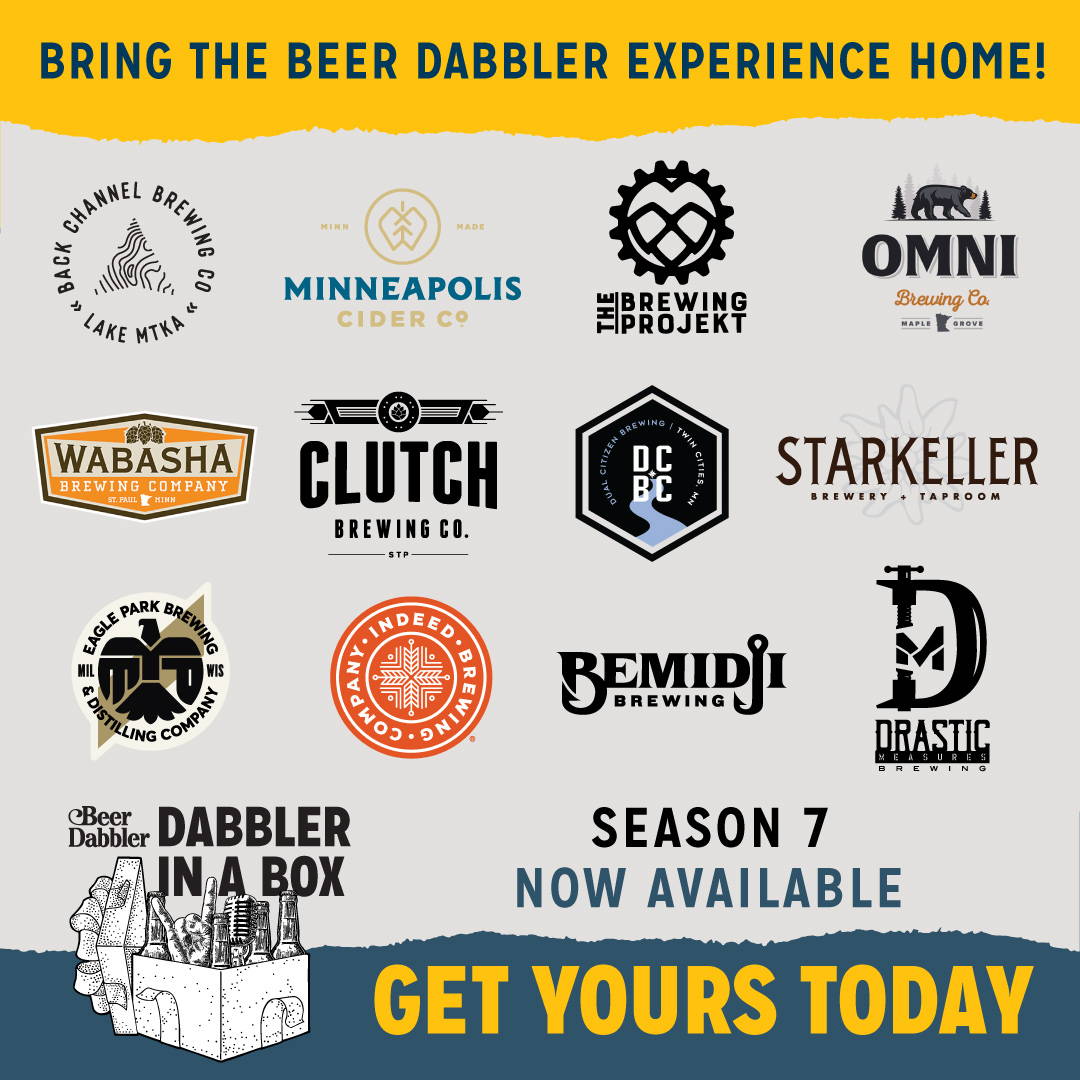 ---
SEASON 7 LINEUP FEATURES:
BACK CHANNEL BREWING CO.
Blue Robin Bakker
(750ml crowler) Imperial Pastry Stout with coffee, cacao, and Biscotti. **
BEMIDJI BREWING
Espresso Porter
(12oz. can)
THE BREWING PROJEKT
Much Strongest
(16oz. can) New England style TIPA
CLUTCH BREWING COMPANY
Enjoy'A Sequoia
(16oz. can) DIP hopped IPA with Citra and Sequoia
DRASTIC MEASURES BREWING
Paid in the Shade
(16oz. can) Hazy IPA with Zamba and Citiva hops
DUAL CITIZEN BREWING COMPANY
Good Good
(16oz. can) Hazy Oat IPA
EAGLE PARK BREWING & DISTILLING CO.
Tropical Smoothie Seltzer
(16oz. can) Pineapple, Passion fruit, and Mango
INDEED BREWING CO. & TAPROOM MILWAUKEE
Pistachio Cream Ale
(12oz. can)**
MINNEAPOLIS CIDER COMPANY
Dockside
(12oz. can) Lemon Lavender Shandy Cider
OMNI BREWING COMPANY
MELT
(16oz. can) Raspberry Passion Fruit Smoothie Sour***
SCHELL'S STARKELLER BREWERY
Starkeller Peach Sour
(375ml bottle)
WABASHA BREWING COMPANY
The Drunk Monk
(16oz. can) Belgian Golden Strong Ale
Allergy Info: ** contains tree nuts, *** contains lactose
---