Beer | Dabbler in a Box Season 6
---
The Beer Dabbler's Dabbler in a Box Season 6 is on its way, featuring limited and seasonal offerings from 12 local breweries and cideries and an in-depth video series that digs deep on the brewers and the big ideas behind each beverage. This box has a few St. Patrick's Day-themed beers, a pair of fruity sours, and plenty of treats for the hop heads. Plus: a bonus can you can drink at work...(!)

Best of all... your purchase helps support the Minnesota Craft Beer Community.


---
Pre-Order February 25 - March 10
or while supplies last.
Pickup March 11 - March 21
Contactless curbside pickup is available. Following the specified pickup window, any unclaimed boxes will be considered forfeit.
There are no refunds on unclaimed boxes.
Local Delivery or UPS Shipping available with orders of $100 or more. Charges will apply. More info on Pickup & Delivery HERE.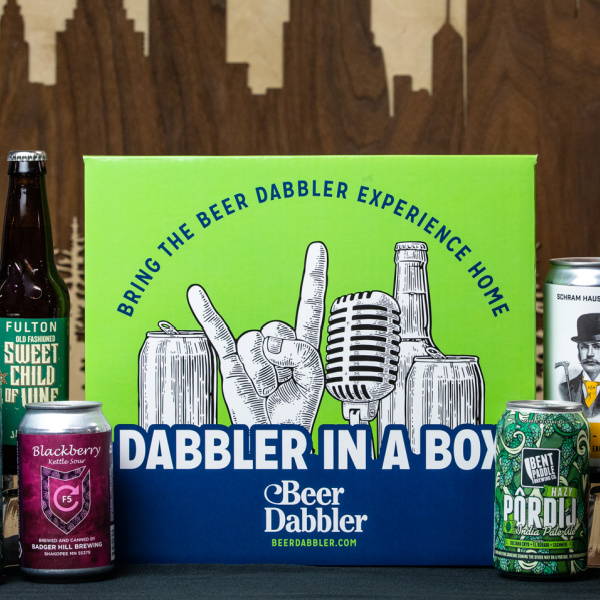 ---
---
• Badger Hill Brewing
F5 Blackberry Kettle Sour (12oz. can)
• Bad Weather Brewing Company
Mythic Mongrel Irish Cream Ale (16oz. can)
• Bent Paddle Brewing Co.
Pordij #6 Hazy IPA (12oz. can)
• Excelsior Brewing Company
Open Bow Unfiltered Pilsner (12oz. bottle)
• FINNEGANS Brew Co.
Dead Irish Poet Extra Stout (12oz. can)
• Fulton Beer
Sweet Child of Vine Old Fashioned (12oz. bottle)
• Lupulin Brewing
8 Count IPA (16oz. can)
• MORE Brewing Company
"Best Kept Secret" New England-Style Double Dry-Hopped Double IPA (16oz. can)
• Oliphant Brewing
Gobias Coffee Black Ale (16oz. can)
• Restoration Cider Co.
Normandy Pear Semi-Dry Cider (12oz. bottle)
• Schram Haus Brewery
Cane Fighter Undefeated New England-Style DIPA (750ml crowler)
• Untitled Art & Drekker Brewing Company (collaboration)
Mango Coconut Sticky Sour (16oz. can)
note: contains lactose
• Bonus! Bauhaus Brew Labs
Nah! Non-Alcoholic Helles Lager (12oz. can)
---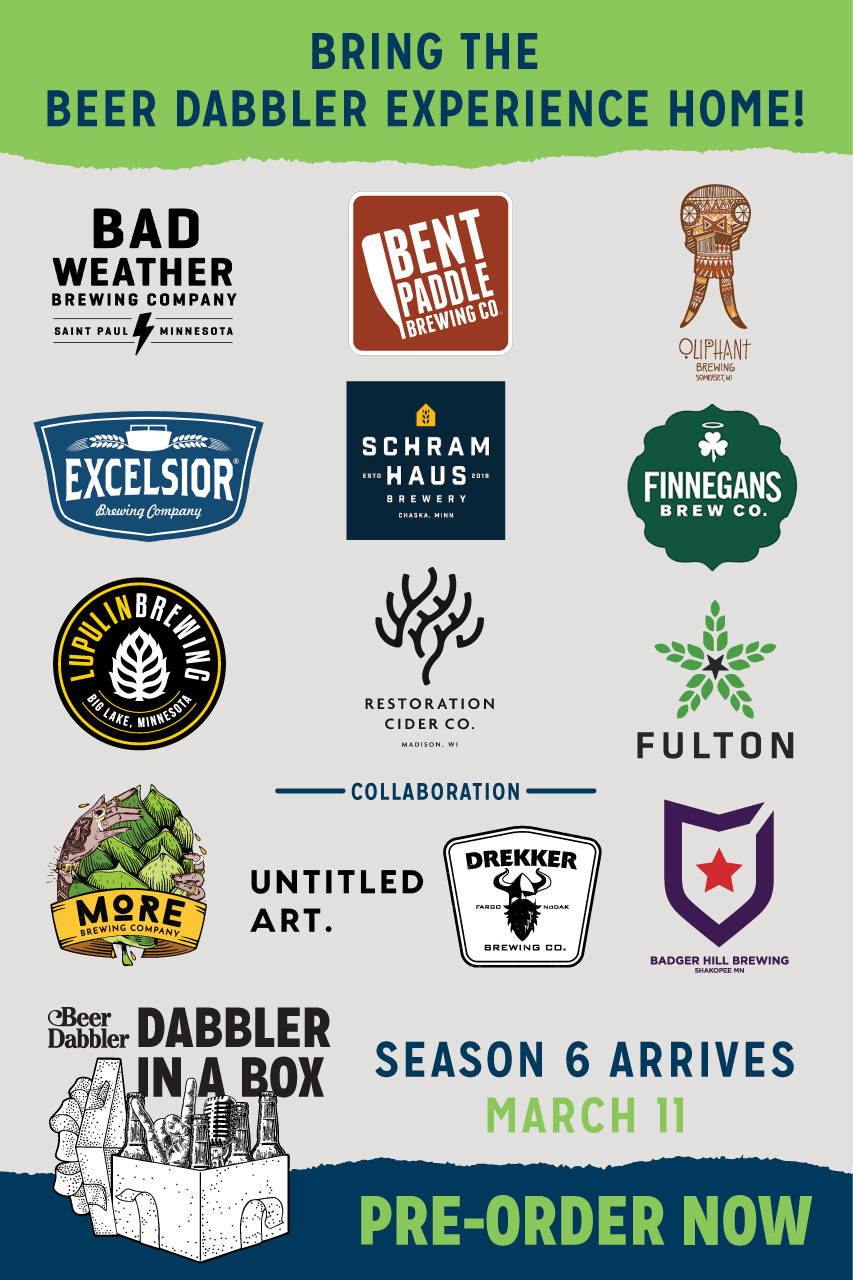 ---
Make sure to get the most out of your purchase by watching the
DABBLER IN A BOX Video Series.
Subscribe to the Beer Dabbler You Tube channel and never miss a video!

---